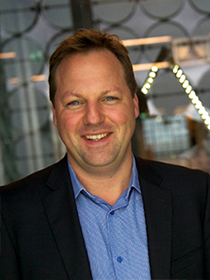 Associate Professor
Dr. Stefan Greuter
Director for the Centre for Game
Design Research
Media and Communication
Ph: +61 (0) 431 988 400
Email: stefan.greuter@rmit.edu.au
Links
RMIT Profile
Research Gate
Academia
RMIT Research Repository
Personal Website
Associate Professor Stefan Greuter is the founder and director of the Centre for Game Design Research (CGDR) in the
School of Media and Communication
at
RMIT University
.
Stefan Greuter's research is interested in solving existing problems using innovative game design experiences that bring together research from multiple disciplines and specialises on solutions involving the latest game technology. He has a track record of working with research partners from other disciplines including Business, Construction, Occupational Health and Safety, Art, Design, Architecture and Information Technology.
Most of Stefan's research projects involve the development of game prototypes to progress knowledge. His applied research generally results in prototypes that are often developed in collaboration with recent graduates of the Bachelor of Design (Games) Bachelor of IT (Games Graphics Programming) and tested with users. Most prototypes have been exhibited or are publicly available for download.
He holds a Doctorate of Philosophy in Visual Communication and his postgraduate studies were supported by two prestigious scholarships from the German Academic Exchange program (DAAD) and the Australian International Postgraduate Research Scholarship (IPRS).
Stefan has 10+ years of leadership experience. Before his work at RMIT he led the development of intranet learning and teaching solutions and serious games applications for Swiss Banking Corporations and Telecommunication Companies.
At RMIT Stefan held a number of leadership positions as Program Manager (2009), Discipline Head (2010), Associate Dean in (2011- 2014) and has directed the Centre for Game Design Research since 2015.
Capabilities
Digital Experience Design
Virtual Reality
Procedural Content Generation
Projects
If Only…
Game Inspired User Interface Design
Domelab
Grand Prix F1 Car VR Experience
New Academic Street VR Visualisation
Out of Space
Pure Land UNWIRED
SpaceWalk
VROOM Tennis
Trouble Tower
AssetGen
Dataverse
Neverland
Publications