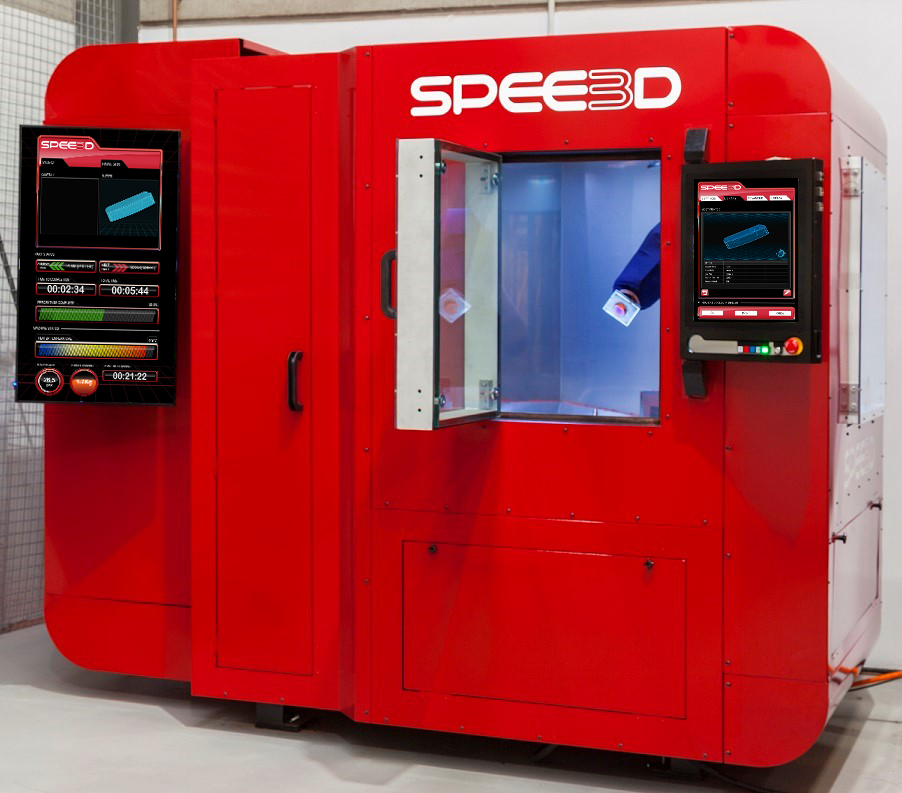 LIGHTSPEE3D, from SPEE3D (www.SPEE3D.com), is a revolutionary high speed, 3D metal printer capable of printing complex metal objects by firing metal powder at supersonic speeds (1000m/s).
Typically, industrial machines are difficult to use, slow and provide a poor user experience. However, A/Prof Stefan Greuter and recent Bachelor of Design (Games) graduate Stephanie Kelso from the RMIT Centre of Game Design Research in collaboration with the staff at SPEE3D conceptualised a touch based user interface inspired by features used in electronic games that will change the way people interact with industrial machinery.
The use of a user friendly interface is envisaged to reduce the training time for employees and the interaction with the touch screen comes intuitively even to those without a computer background. The interface provides clear points of interaction that allow users to select icons directly and confidently without worrying about translating horizontal mouse movement to a vertical screen. Interactive 3D graphics makes it fun for the user to interact with the printer whilst keeping the user informed about the status of the machine in real time. The modern touch based user interface design makes interacting with LIGHTSPEE3D not only more intuitive but also an engaging experience for the user.
LIGHTSPEE3D was nominated as a finalist for the 2016 Premier's Design Challenge in the Product Design category.
Project Team
Byron Kennedy, SPEE3D, Australia
Steven Camilleri, SPEE3D, Australia
Stefan Greuter, Centre for Game Design Research , RMIT University, Australia
Stephanie Kelso, Bachelor of Design (Games) Graduate , RMIT University, Australia