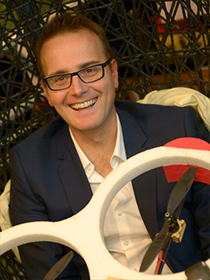 Professor Florian 'Floyd' Mueller
Director of the Exertion Games Lab
School of Design
Ph: +61 3 9925 2594
Email: florian.mueller@rmit.edu.au
Links
RMIT Staff Profile
RMIT Research Bank
Exertion Games Lab
Twitter: @exertiongames
Professor Florian 'Floyd' Mueller is the director of the Centre of Game Design Research and directs the Exertion Games Lab at RMIT University. Floyd's research has spanned four continents, including research posts at the University of Melbourne (Australia), MIT Media Lab (USA), Media Lab Europe (Ireland), Fuji-Xerox Palo Alto Laboratories (USA) and Xerox Parc (USA). Floyd was also leading a team of 12 researchers at the Commonwealth and Scientific Industrial Research Organisation (CSIRO) on the future of "Connecting People". He has been a Fulbright Visiting Scholar at Stanford University (USA). Floyd has also been a Microsoft Research Asia Fellow and has worked at Microsoft Beijing (China) with the research teams developing Xbox's Kinect.
Floyd's research work was presented at the top conferences in the field of interaction design and computer games, including several best paper nominations. Floyd's Exertion Games work has been shortlisted for the European Innovation Games Award (next to Nintendo's Wii Fit), received honorary mentions from the Nokia Ubimedia Award, was commissioned by Wired's Nextfest, exhibited worldwide and attracted substantial international research funding, including numerous grants from the US, the Australian, the UK and the German Government.
His team's Exertion Games were played by over 20,000 players across 3 continents and were featured on the BBC, ABC, Discovery Science Channel and Wired magazine.
Capabilities
Games
Human-Computer Interaction
Interaction Design
Ubiquitous Computing
Human-Player Interaction
Embodiment
Movement-Based Games
Whole-Body Interaction
Body-Centric Computing
Exertion Interface
Exertion Games
Sports
Publications