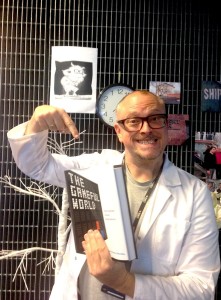 What if our whole life were turned into a game? What sounds like the premise of a science fiction novel is today becoming reality as "gamification." As more and more organisations, practices, products, and services are infused with elements from games and play to make them more engaging, we are witnessing a veritable ludification of culture.
Celebrating the publication of the book edition The Gameful World (The MIT Press) earlier this year, we would like to invite your to an early evening of casual discussion about play, games and gamification, and their impacts on us, the citizens.
The event will be moderated by Creative Victoria's Amelia King – a true pioneer and enabler of games development in Australia – and gathers a unique round of The Gameful World contributors:
The Gameful World Book launch is presented by RMIT University's Games and Experimental Entertainment Laboratory (GEElab) in the Centre for Game Design Research, as part of RMIT's Design Research Institute's Design for Impact Festival.
Date: Thursday 30 July
Time: 1800 – 2000
Venue: RMIT Design Hub, Level 10, Longroom
(enter at the corner of Swanston and Victoria Streets, Melbourne)