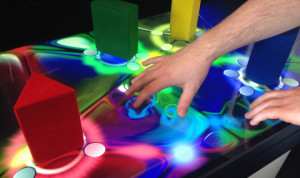 Dr Jonathan Duckworth's  interactive 'Resonance Table' recently featured at international music festival Sonar D+.
RMIT University, through its centre in Europe (RMIT Europe), has collaborated for the first time with Sónar, the International Festival of Advanced Music and Congress of Technology and Creativity, celebrated in Barcelona every June.
Dr Jonathan Duckworth, Director of the Creative Interventions Art & Rehabilitative Technologies Lab (CiART), in the Centre for Game Design Research, showed his research at Sónar+D, the international conference on digital transformation integrated into Sónar.
Selected as one of the 20 exhibits at the Marketlab area between more than 60 applications, The Resonance Table is an interactive surface that is designed for movement rehabilitation for individuals with a brain injury. Previously the Resonance Table was customised for composer James Hullick and performed by members of the Amplified Elephants – musicians with intellectual disabilities as part of theMelbourne Festival (2014).
The Resonance Table was chosen by the main Spanish newspapers as one of the top ten innovative ideas to see in Sónar+D gaining nationwide media attention for RMIT University. More than 4500 accreditation holders participated in the Market Lab, keynotes, demos, workshops and consultancy sessions organized at Sónar+D. Dr Duckworth said that the exhibit had a constant stream of people trying out the table.
"The market lab was a great experience. People were really receptive to the design of Resonance and praised how intuitive it was to use." said Dr Duckworth.
Sónar+D was thriving with activity during three days with around 550 networking meetings amongst investors, entertainment designers, curators, creators, entrepreneurs, fellow researchers, industry professionals, hacktivists, makers and innovation leaders. Dr Duckworth and his team had the opportunity to network with a wide range of attendees. A number of exciting future opportunities and collaborations are likely to arise.
More than 80,000 festival goers in total attended the Festival this year, with a line up that included artists such as The Chemical Brothers, Duran Duran, Hot Chip, Jamie
XX and Kindness to name a few.
The opportunity to participate in Sónar+D in Barcelona was made possible through funding from the RMIT Design Research Institute, RMIT Europe and the RMIT Centre for Game Design Research.
RMIT Europe also sponsored one of the Festival keynotes Exploring Google's ideas incubator by Indy Saha, Google Brand Director. RMIT´s Europe long-term objective is to build up an established relationship with Sónar+D and continue our collaboration as a partner in the world of digital culture and creative technologies.
Media Links
http://sonarplusd.com/activity/resonance/
http://www1.rmit.edu.au/browse/RMIT%20News%2FNewsroom%2F;ID=khwwp31s577;STATUS=A
http://www.acu.edu.au/staff/our_university/newsroom/new_archive/audiovisual_artwork_for_rehabilitation