7 December 2017
Dr Betty Sargeant, creator-in-residence at the RMIT Exertion Games Lab, led the creative team who designed The Storytelling Machine. This was the major project of her recent Melbourne Knowledge Fellowship and won the Victorian Premiers Design Award for best Digital Design.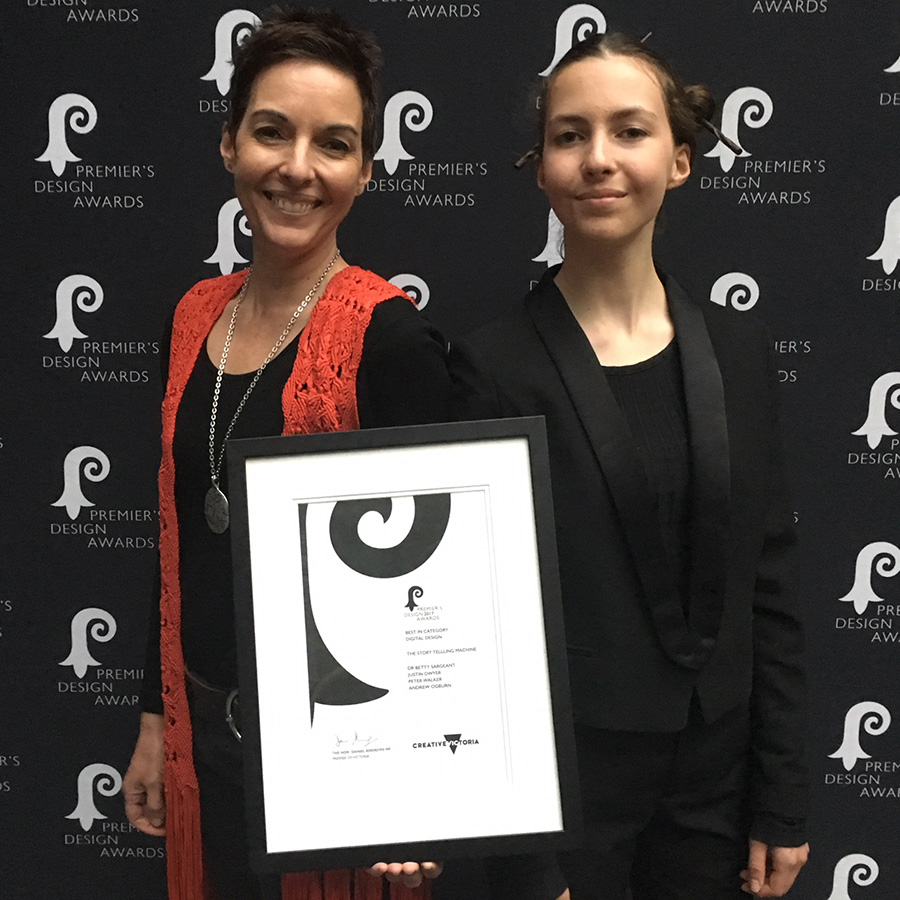 The development of this project was proudly supported by the Exertion Games Lab (Centre for Game Design Research, RMIT University).
The Storytelling Machine is an this interactive media artwork. It is a digital system that delivers a collective story made from crowd-sourced content. The story is told through text and images that are projected onto surfaces in an exhibition space.
Audiences draw characters, place them into our custom-made photo-booth and watch as their characters are instantly animated across video 'worlds'. People also contribute short story texts in any language. The machine generates real-time graphics, randomly displaying audience contributions.
Ultimately this installation presents a disjointed contemporary narrative; an imprint of what it's like to live in digitally connected automated cultures where people oscillate between geographic and virtual realities.
Betty Sargeant- Creative Director
Justin Dwyer- Technical Director
Peter Walker – Creative Coder
Andrew Ogburn – Composer
The Storytelling Machine was co-produced under sponsorship from the Asia Culture Centre and the ACI (South Korea)
This project was supported by City of Melbourne (Knowledge Melbourne), the Victorian Government through Creative Victoria (VicArts), the Copyright Agency Cultural Fund, the City of Port Phillip Cultural Development Fund, and the RMIT Exertion Games Lab.