4 April 2018: RMIT has teamed up with Microsoft to deliver a ground-breaking new Games and Graphics Programming course for the next generation of mixed reality software developers and designers.
RMIT students will gain unique access to leading technology and software within the mixed reality industry and across Microsoft platforms.
At the helm of the new course is Associate Professor in Artificial Intelligence (AI), Mixed Reality and Related Simulation, Dr Fabio Zambetta.
"We will be exploring both the theoretical and practical aspects of mixed reality, leveraging our strong connections with industry, our partnership with tech giant Microsoft, and leading game middleware company Unity Technologies," Zambetta said.
The hands-on course provides students with access to high-end game studio labs, where they will be able to apply Unity and Microsoft DirectX experiences to real-world technologies such as the Microsoft HoloLens and the Windows mixed reality suite of products.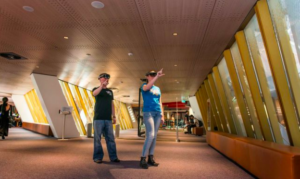 For the full article, visit: https://www.rmit.edu.au/news/all-news/2018/mar/rmit-partners-with-microsoft
Story: Maddy Pattison