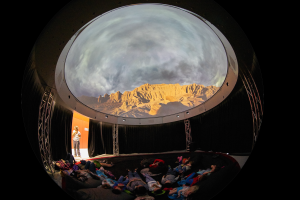 DomeLab is the first mobile ultra-high resolution fulldome in Australia. Learn from leading experts Prof. Sarah Kenderdine, Prof. Paul Bourke, and A/Prof Stefan Greuter about the challenges and opportunities of ultra HD fulldome visualisation. The Master class discusses content development methods based on a number of case studies involving film/animation, real-time visualisation and games followed by a tour behind the scenes of DomeLab and experience a selected number of DomeLab works in a private session.
What you will learn:
how to design for linear content development
how to design for real-time interactive content development
opportunity to develop a prototype in our 'Live Lab'
private tour of the DomeLab and Design + Play exhibition
Tickets
$150 per person
$75 students
Time & Date
Monday 2 May
10am – 5pm
Venue
RMIT Design Hub, cnr Swanston and Victoria Streets, Melbourne
Level 3 Lecture theatre
Speakers
Professor Sarah Kenderdine is the Deputy Director of NIEA and the Director of the iGLAM Lab (Laboratory for Innovation in Galleries, Libraries, Archives and Museums). She researches at the forefront of interactive and immersive experiences for museums and galleries.
Prof Paul Bourke is the manager of the EPICentre facility at UNSW. He has extensive experience of novel display technologies for data visualisation including immersive platforms such as hemispherical domes.
Associate Professor Dr Stefan Greuter 
Associate Professor Stefan Greuter is the founder and director of the Centre for Game Design Research (CGDR) in the School of Media and Communication at RMIT University. Stefan's research is interested in solving existing problems using innovative game design experiences that bring together research from multiple disciplines including Business, Construction, Occupational Health and Safety, Art, Design and Information Technology. 
This Project is presented for Melbourne Knowledge Week by the RMIT School of Media and Communication Centre for Games Design Research as part of the Design & Play exhibition (29 April – 14 May, 2016).