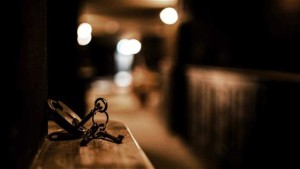 Sometimes the only way to get results is to lock students in a room and throw away the key…
Recently the Games Centre held its first information session for the Higher Degree by Research (HDR) students studying at RMIT in one of Melbourne's 'escape rooms'.
RMIT Games Centre students and Games Centre leaders took over three of the four rooms to solve puzzles, find clues and unlock doors in a bid to exit their themed room under 45 minutes. Teams played in the themed rooms – 'Bio Hazard', 'Transylvania' and 'Wonderland' working in groups to unlock team mates from coffins and chains. The session was developed as a way to bring research nodes together and give students an opportunity to work with each other in a fun way.
Whilst some of the rooms were solved much more successfully than others, overall the activity was well received by students who are keen to develop their own escape room experiences. As part of an extended team-building and potential publishing outcome, the Games Centre will coordinate an 'escape room' building workshop for HDR students within each of the Games Centre nodes, this will be followed by an opportunity to present the escape room later in 2015.