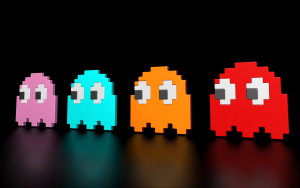 The Domelab Arcade showcases a number of game experiences that are specifically designed for the fulldome screen and seek to engage players of all ages in a shared game experience on one big screen.
Video game arcades of the 70s and 80s used to showcase the latest games and game machines. Apart from the noticeable advancements in game design, computer graphics, sound and music, specifically designed game arcade machines also often featured custom controls, hydraulic cabins and advanced projection systems to immerse players in the game. However, the popularity of video arcade games declined as competing home-based video game consoles increased in capability and decreased in cost. Today, multiplayer games engage a large number of players in shared virtual environments and game experiences. However console and PC game players are physically separated and the hardware in itself is limited in its ability to immerse the player.
Cinema has a history of engaging large numbers of viewers with large high resolution screens in a number of different formats. Multiplayer games have yet to take advantage of these systems to provide collocated shared game experiences.
The Domelab Arcade project is seeking to understand the design challenges and opportunities for collocated multiplayer games on Domelab's ultra high definition fulldome screen. This is explored through the design of a number of game projects designed and developed by researchers, students and recent graduates of the Bachelor of Design (Games) program at RMIT University. The Domelab Arcade project consists of 4 games described below:
Fuball
Finger Candy (Jadd Zayed and Jack Sinclair)
Originally developed as a university assignment, Fuball is an abstract local-multiplayer sports game. In Fuball, players spin, shoot, and curve the ball to outsmart, outmanoeuvre, and outplay the opposition. The game features fast, fluid local-multiplayer action, innovative and unique controls, stunning minimalist visuals and smooth, easy-listening sounds. In October 2015, Fuball was selected to be presented at the Games Connect Asia Pacific conference as part of the first student showcase and is still in active development.
In Space
Stefan Greuter
In Space is a short multiplayer game experience, where each player controls a spaceship within the confines of the dome shaped screen. The objective for each player of the game is to stay alive as long as possible to collect upgrades for their ship, negotiate temporary alliances with other players in the room to take down larger foes, dodge asteroids and space debris and avoid getting sucked into black holes that form in the space from time to time.
Infinite Sky
Tamara S Clarke
Infinite Sky is an experimental turn based co-op sandbox game for Domelab and Kinect. In Infinite Sky players are prompted to experience the game world through the eyes of a child, work together and use the sky as a canvas for their imagination, painting with clouds & drawing with the stars. Players are encouraged to participate in childlike play and explore concepts of Imagination, Creativity and Subjectivity as well as consider what we as adults can take away and learn from how children assimilate information about the world around them through engaging in play.
Pure Absence
Adam Nash
Pure Absence is a playable, abstract, generative and composed, audiovisual experience in realtime 3D. Pure Absence discombobulates notions of the virtual by sounding visions, animating audio and worlding words. Revelling in the confusion of abstract space that is nothing like reality, and yet is, it shows how things are the same to see how they differ. A game with no point(s), a world with no poles, a lack of reason that presents itself rationally, Pure Absence is an actual fantasy. Colours, sounds and player interact on an equally (artificially) stupid level of intention. Wondering ensues.
See performance times for Pure Absence
AstroSurf
James Manning and William Goddard
Race through space in this fast-paced multiplayer infinite runner. No holds barred high-octane orbital action awaits. Strap on your jetpacks and take to the stars. Zigzag betwixt orbital debris against awe-inspiring space vistas. Prepare yourself for a sensory experience that is out of this world. Meteoric fun-fuelled frolics for all the family. Sick bags and safety belts not included.
*sessions AstroSurf can be played include:
April – Sat 30, 4 – 5pm,
May – Wed 4 4pm – 6pm; Thurs 5  11am -12pm; Fri 6  11am -12pm; Sat 7 12pm – 1pm; Tues 10 11am -12pm; Wed 11 11am -12pm; Sat 14 11am -12pm
Dates:
Sat 30 April
Wed 4, Thurs 5, Fri 6, Sat 7, Tues 10, Wed 11, Sat 14 May
Tuesday – Friday 11am – 6pm, Saturday 12 – 5pm
Location:
RMIT Design Hub, Cnr Swanston and Victoria Streets Melbourne, Level 2 Gallery
This Project is presented for Melbourne Knowledge Week by the RMIT School of Media and Communication Centre for Games Design Research as part of the Design & Play exhibition (29 April – 14 May, 2016).