These are the discoveries of the Duckworth/Hullick Duo. Their mission: to explore strange new virtual worlds, to seek out new art and new ideas, to boldly play where no one has played before.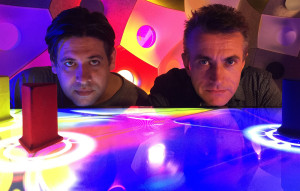 At this world premiere event, the Duckworth/Hullick Duo offer adventurous audiences an electronic synaesthetic virtual world – inspired by possible technological futures. What will the musical instruments of the future look like? How might performers play and compose in real-time 3D? What are the dimensions of performance spaces that will immerse audiences and performers alike?
RESONANCE in the DOME is a 21st Century audiovisual spatial experience like no other. Held at the RMIT Design Hub, the performance will be presented under the architecturally designed projection of the DomeLab: an ultra-high resolution (4K) (4096 x 4096 pixels), 6m wide immersive, hemispherical display which is horizontally suspended over the audience.
Resonance is a unique interactive tabletop used as an audiovisual and 'musical' instrument. The table has been created by the 2015 Victorian Premier's Award winner Dr. Jonathan Duckworth and his team at the RMIT Creative Interventions Art and Rehabilitation (CiART) Lab. RESONANCE in the DOME will feature internationally acclaimed sound artist James Hullick performing three new works on the world-leading RESONANCE instrument and in concert with four celebrated percussion members of the BOLT Ensemble: Nat Grant, Timothy Phillips, James Townsend, and Hamish Upton. The movement and manipulation of objects, touch and gesture on the RESONANCE table will generate sonic perturbations, pulsing visual lines and glowing fragmented geometries which display on both the table and the DOME.
Be brave and be immersed in the audiovisual spaces of the Duckworth/ Hullick Duo.
Performances are limited to 20 people per session, the audience will have the unique opportunity to watch live, the Duckworth/ Hullick Duo, BOLT percussionists and the Resonance table come to life inside the Dome.
Dates & Session Times
Friday 6 May & Saturday 7 May 2016
Session 1: 7.30 – 8:00pm
Session 2: 8:10 – 8:40pm
Session 3: 8:50 – 9:20pm
Session 4: 9:30 – 10:00pm
Venue
RMIT Design Hub
corner of Swanston and Victoria Streets Melbourne
Enter via Level 3 – ground floor foyer
Tickets
Tickets are limited to an audience of 20 per session and are
General $29 each (GST and fees included)
Student $15 each (GST and fees included) (code: Student)
Tickets can only be purchased via Eventbrite, no door sales and no refunds on tickets.
*Please note, each session is timed to 30 minutes – we request you arrive 15 minutes prior to the performance to ensure entry to the venue. Late guests will not be allowed to enter after the start time.
Acknowledgements
Resonance is supported by a Synapse Australian Research Council (ARC) Linkage Grant through the Australian Government through the Australia Council, its Arts funding and advisory body. Resonance is part of a larger arts-science collaborative research project currently under development with the Australian Catholic University and Griffith University to develop an interactive art work for rehabilitation of acquired brain injury. This project is presented in partnership with CiART, JOLT Arts, the RMIT School of Media and Communication Centre for Games Design Research as part of the Design + Play exhibition (29 April – 14 May 2016).
Dr Jonathan Duckworth – Artist, Designer, Director CiART, RMIT University
Mr Ross Eldridge – Software Application Developer, CiART, RMIT University
Dr James Hullick – Sound Design, Composer, Director JOLT Arts
BOLT Ensemble musicians:
Timothy Phillips (percussion)
Nat Grant (percussion)
Hamish Upton (percussion)
James Tow (percussion)
This Project is presented for Melbourne Knowledge Week by the RMIT School of Media and Communication Centre for Games Design Research as part of the Design & Play exhibition (29 April – 14 May, 2016).