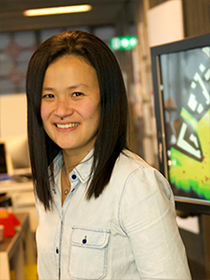 Dr. Flora Salim
Director of the Context-sensing
User Experience (CUE)
Computer Science and Information
Technology
Ph: +61 3 9925 0291
Email: flora.salim@rmit.edu.au
Links
RMIT Staff Profile
Research Gate
RMIT Research Repository
Personal Website
Dr. Flora Salim
is the Director of the Context-sensing User Experience (CUE) node in the School of Computer Science at RMIT University.
Dr Flora Salim is a Lecturer in the School of Computer Science and Information Technology at RMIT University. She obtained her PhD in Computer Science from Monash University. Dr Salim's research interests include: context-aware computing, the Internet of Things, context sensing, crowd-sensing activity and behaviour recognition, trajectory pattern mining, and adaptive user interfaces.
Dr Salim has been awarded a number of research grants from the Australian Research Council (ARC), IBM Smarter Cities Lab, Australian Urban Research Infrastructure Network, and various industry partners.

Capabilities
Ubiquitous computing
Mobile computing
Pervasive computing
Data analytics
Crowdsensing
Smartphone-based sensing
Intelligent User Interface
User analytics

Projects
Swarming: micro-flight data capture and analysis in architectural design
Integrated Smart Airport Services
VizUrban: Query and 3D visualization services for urban visual analytics
Online Infrastructure for iCO2mmunity
Innovative Road Safety Technologies
Two Cities as a Living Lab

Publications