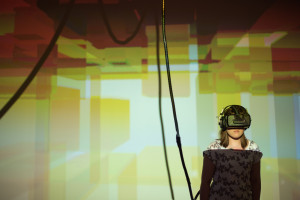 Next week, Director of the Centre for Game Design Research, Associate Professor Dr Stefan Greuter will give a talk about virtual reality at Monash University's Sensilab.
Sensilab Forum
Wednesday 11 November 2015
3pm
Building H, Level 6 Monash University 900 Dandenong Road Caulfield East 3145
Virtual reality (VR) is no longer the expensive, cumbersome exercise it once was and will soon become commercially available. What games can we play with VR? What are the real time applications? What does VR enable us to do that is new?
Stefan Greuter from the Centre for Game Design Research at RMIT University will provide an overview of the history of VR, the challenges of VR, current and future applications, and share his experiences with the medium based on his work on two VR works: PureLand Unwired and Out Of Space.
BIOGRAPHY Associate Professor Stefan Greuter is the Director of the Centre for Game Design Research (CGDR) in the School of Media and Communication at RMIT University. His research is interested in solving existing problems using innovative game design experiences that bring together research from multiple disciplines including Business, Construction, Occupational Health and Safety, Art, Design and Information Technology. Stefan has a track record of working with experts from other fields and specialises in solutions involving the latest game technology. In his research Stefan worked on the procedural content generation, data visualisation, serious games and most recently the visualisation of a cultural heritage site and an abstract virtual environment using VR.