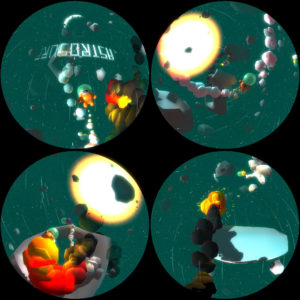 "Race through space in this fast-paced multiplayer infinite runner. No holds barred high-octane orbital action awaits. Strap on your jetpacks and take to the stars. Zigzag betwixt orbital debris against awe-inspiring space vistas. Prepare yourself for a sensory experience that is out of this world. Meteoric fun-fuelled frolics for all the family. Sick bags and safety belts not included."
AstroSurf is an experiment in creating shared vertiginous experiences. In spite of the promise of VR technology—to transport us to worlds other than our own—the incumbent headsets often delimit experiences to an individual perspective. AstroSurf explores an alternative: large scale, dome screen, overhead projection. AstroSurf is an invitation to play together; alongside, above, and below those around you, and amidst all the other intrepid star sailors.
James Manning is a game creator, researcher, and Associate Lecturer, Bachelor of Design (Games) at RMIT University. James is currently completing his doctorate at Bath Spa, University, UK studying the ephemerality of videogames.
William Goddard is a game jammer, maker, and designer. William brings his industry experience in mobile games to his sessional teaching into the Bachelor of Design (Games) at RMIT University. William is a doctoral candidate at RMIT where he is investigating how to design videogames that foster social connections.
Credits:
Concept and Design, James Manning
Code and Co-design, William Goddard
Music, Jordan Browne
*Sessions AstroSurf can be played include:
April – Sat 30, 4 – 5pm
May – Wed 4 4pm – 6pm; Thurs 5 11am -12pm; Fri 6 11am -12pm; Sat 7 12pm – 1pm; Tues 10 11am -12pm; Wed 11 11am -12pm; Sat 14 12 – 1pm