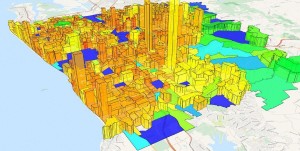 The research conducted by the Context-sensing User Experience lab (CUE) seeks to enhance the user experience of those technologies we use in our everyday life.
Using sensors in mobile phones, at home, and in the city we are able to track user habits, detecting patterns that allow us to invent simple and novel ways of improving technological capabilities. From mobile phone apps able to offer suggestions to users and/or adapting to specific user needs, to games responding to user habits, such research has numerous applications.
Just like a picture tells a thousand words, if tapped into, all the sensors around us reveal a lot about user activities, routines, habits, and preferences and are a valuable resource for improving technology we use on a daily basis.
Read about the Node Director – Dr Flora Salim
Contact: flora.salim@rmit.edu.au