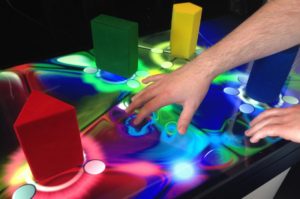 Come play the interactive Resonance table – a musical, visual and immersive interactive tabletop that will light up the Dome.
Participants will have a unique opportunity to play with surface objects that create light and sound in the Dome on Friday 29 April (11am – 6pm).
Special performances of the Resonance table being played by Dr Jonathon Duckworth, James Hullick and the Bolte Ensemble see exclusive event Resonance in the Dome on Friday 6 and Sat 7 May. 
The Resonance table has been created by the 2015 Victorian Premier's Award winner Dr. Jonathan Duckworth and his team at the RMIT Creative Interventions Art and Rehabilitation (CiART) Lab. Resonance promotes collaborative and playful modes of interaction between small groups of performers standing face to face around the display. The movement and manipulation of objects, touch and gesture on the display generates sonic perturbations, pulsing visual lines and glowing fragmented geometries displayed on the table and projected on the ultra-high resolution (4K) (4096 x 4096 pixels), 6m wide immersive, hemispherical display horizontally suspended over the audience.
Date: Friday 29 April
Time: 11am  – 6pm
Venue: RMIT Design Hub, Cnr Swanston and Victoria Streets, Level 2 Gallery, Melbourne