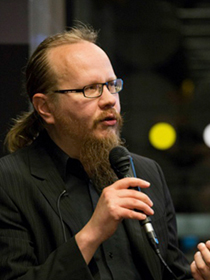 Dr Jussi Holopainen
Postdoc Research Associate, Games Design
Global Development, RMIT Spain
Ph: +34 63243 6069
E: jussi.holopainen@rmit.edu.au

Links
RMIT Staff Profile
ResearchGate
Research repository
Google Scholar
Dr Jussi Holopainen
is a Research Associate, RMIT Europe. Dr. Holopainen's research has focused on game design, playful design, and using games outside of leisure contexts. His latest work has examined playful and game design for positive behaviour change.
He holds a PhD in Digital Game Development from the Blekinge Institute of Technology in Sweden, and has been researching game design and gameplay experience since 1998, having authored or co-authored many academic publications and patents. Dr Holopainen serves as a member of the Digital Games Research Association (DiGRA) executive board and is a member of several program committees such as Games and Culture, Game Studies, Advances in Computer Entertainment, and the DiGRA annual conference.
Before moving to RMIT Europe in early 2016, he was previously the European Co-Director for RMIT's Games and Experimental Entertainment Laboratory in Germany. He has also served senior research management positions at the Nokia Research Center (NRC) and has been involved in coordinating several industry and academia collaboration projects.

Capabilities
Game Design Research
User Experience Research
Playful Design
Game Design Patterns
Pervasive Games
Urban Play
Game Research Methodology

Publications
JH Arrasvuori, J Keränen, HJ Korhonen, A Lucero… (2016).

Method and apparatus for generating a virtual interactive workspace

, US Patent 9,235,268

A Muscat, W Goddard, J Duckworth, J Holopainen. (2016).

First-Person Walkers: Understanding the Walker Experience through Four Design Themes

Stober, J.,Holopainen, J.,Walz, S.,Schwingeler, S. (2015). RIDE YOUR MIND In: GLOBALE: Global Games Karlsruhe, Germany

Holopainen, J.,Stain, M. (2015).

Dissecting playfulness for practical design

In: The Gameful World, MIT Press, Cambridge, United States

Boberg, M.,Karapanos, E.,Holopainen, J.,Lucero, A. (2015).

PLEXQ: Towards a Playful Experiences Questionnaire

In: Proceedings of the 2015 Annual Symposium on Computer-Human Interaction in Play (CHI PLAY 2015), London, United Kingdom, 3-7 October 2015

Deterding, S., Lucero, A., Holopainen, J., Min, C., Cheok, A., Waern, A., Walz, S. (2015).

Embarrassing Interactions

In: Proceedings of the 33rd Annual ACM Conference Extended Abstracts on Human Factors in Computing Systems, 2015

Holopainen, J., Stain, M. (2015).

Dissecting playfulness for practical design

In: The Gameful World: Approaches, Issues, Applications

Waern, A., Deterding, S., Lucero, A., Holopainen, J., Min, C.,  Cheok, A., Walz, S. (2015).

Embarrassing Interactions

In: International Conference on Computer-Human Interaction

Nummenmaa, T.,Tyni, H.,Kultima, A.,Alha, K.,Holopainen, J. (2015).

Need to Touch, Wonder of Discovery, and Social Capital: Experiences with Interactive Playful Seats

In: Proceedings of the 11th Conference on Advances in Computer Entertainment Technology (ACE '15), Iskandar, Malaysia, 16-19 November 2015

Ghellal, S., Schneider, T., Holopainen, J. (2015).

Get Milk–A Game of Lenses

Krome, S.,Walz, S.,Greuter, S.,Holopainen, J.,Gerlicher, A.,Schleehauf, M. (2014).

Exploring game ideas for stresslessness in the automotive domain

In: Proceedings of the 2014 Conference on Interactive Entertainment, IE2014, Newcastle, Australia, 2-3 December 2014

Krome, S.,Holopainen, J.,Walz, S. (2014).

Approaching a design space for gameful interactions in the context of piloted driving

In: Adjunct Proceedings of the 6th International Conference on Automotive User Interfaces and Interactive Vehicular Applications, Seattle, United States, 17-19 September 2014

Arrasvuori, J., Holopainen, J., Korhonen, HJ., Montola, M., Nummenmaa, T. (2014).

Determination of event of interest

. US Patent 8,645,283

Lucero, A., Holopainen, J., Ollila, E., Suomela, R., Karapanos, E. (2013).

The playful experiences (PLEX) framework as a guide for expert evaluation

In: Proceedings of the 6th International Conference on Designing Pleasurable Products and Interfaces, 2013

Stober, J.,Walz, S.,Holopainen, J. (2013).

Hacking as a playful strategy for designing artistic games

In: Context Matters! Proceedings of the Vienna Games Conference 2013: Exploring and Reframing Games and Play in Context, New Academic Press, Vienna, Austria

Lucero, A.,Holopainen, J.,Ollila, E.,Suomela, R.,Karapanos, E. (2013).

The playful experiences (PLEX) framework as a guide for expert evaluation

In: Proceedings of the 6th International Conference on Designing Pleasurable Products and Interfaces (DPPI 2013), Newcastle upon Tyne, United Kingdom, 3-5 September 2013

Montola, M.,Holopainen, J. (2012).

First person audience and the art of painful role-playing

In:Immersive gameplay: Essays on participatory media and role-playing, McFarland Publishers, Unites States

Mattila, JS., Holopainen, J. (2012).

[Keratitis associated with contact lens wear]

In: Duodecim; laaketieteellinen aikakauskirja, Finland

Lucero, A.,Holopainen, J.,Jokela, T. (2012).

MobiComics: collaborative use of mobile phones and large displays for public expression

In: Proceedings of the 14th International Conference on Human Computer Interaction with Mobile Devices and Services, 2012, San Francisco, United States, 21-24 September 2012

Mäyrä,F., Holopainen, J., Jakobsson, M. (2012).

Research methodology in gaming: An overview

In: Simulation & Gaming, USA

Montola, M., Holopainen, J. (2012). First person audience and the art of painful role-playing In: E. Torner and W.White (ed.) Immersive gameplay: Essays on participatory media and role-playing, McFarland Publishers, Unites States, pp. 13-30.

Fernaeus, Y., Holopainen, J., Höök, K., Ivarsson, K., Karlsson, A., Lindley, S., Norlin C., (2012).

Plei-Plei!

. Professional Publishing People (P3)